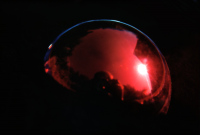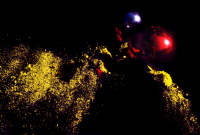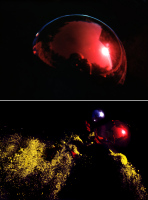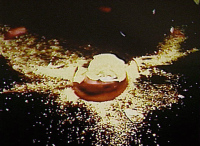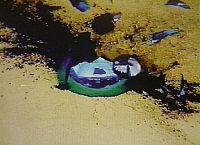 Passage de l'espace fermé à l'espace ouvert, 1977
BVU SECAM + U-matic PAL, son, couleur
"Since 1975, one of my most important projects has been the study of the relationship between art and violence. The main subject of this tape is the destruction of sound and image and the subject of this action is the passage from closed to open space." (Slobodan Pajic)
Taking as his materials coloured glass balls, light or dark sand, a steel ball bearing, light and shadow, noise and silence, Slobodan Pajic explores the conflicts between the shapes and their resonance in space, the movement of intrusion and the shock of the 'disturbing' element in a closed world.
Starting with the concepts of opening and closing a given space, Slobodan Pajic introduces a power struggle, a state of violence between the world and its representation. This power struggle goes through a detour of image, reality made visible at a remove, by reflections, multiple shards. The destroyed image is recreated unflaggingly after each attempt until the final explosion; then, absolute silence, the peace of death.
Stéphanie Moisdon
Translated by Phoebe Green