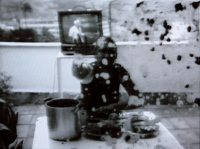 Sans titre (Feijão), 1975
Betacam numérique PAL, 9', black and white, sound.

In Sem título (Feijao) (Untitled [Beans], 1975), Sonia Andrade's second video, the artist films herself in a sequence shot eating a traditional Brazilian meal on the balcony of an apartment: a plate of black beans with bread and a soda containing guarana extract. She faces the camera and turns her back to a television broadcasting an American series (Tarzan, 1966-1968) with commercial breaks. Very quickly, this ordinary meal is transformed into a regressive scene where the artist plunges her hands into the potful of food and compulsively spreads it over her face and body before directing her gestures towards the camera and projecting the food at it until the visual field is completely hidden. One part of this protean artist's early videos – she also uses other techniques – deals with the television's power of intrusion and subjection. In this film, she does not look at the camera. The intimate space of the meal is entirely controlled by the television image: on the one hand, by the filming, which captures an everyday scene, and on the other, by the image broadcast, which deals out the values of consumer society. The viewers themselves are brutalised, initially by the visual competition they experience, between the banal action of the meal and the attraction of the television screen in the background, and then by the hysterical turn of the action, dominated by the violence of a gesture of obliteration: the obliteration of he subject filmed and the blinding of the gaze directed at it. Also echoing one another are the colonial intention of televised entertainment and the cultural identity which the artist forcefully brings up here, provoking the ethnological eye to the point of the 'barbaric' loss of control of the action.
Marcella Lista
Translation: Miriam Rosen